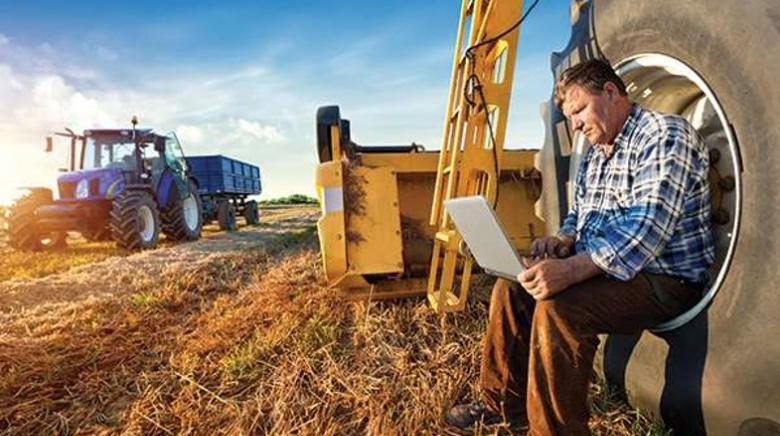 Australian agribusiness firms, wholesalers, producers and farmers are increasing their use of technology and data analytics to better manage profitability, minimise wastage, understand customer needs, crop yields, soil conditions, weather patterns and more.  Here we look at some of the ways we've been working with agribusiness clients in leveraging business intelligence and analytics to help better manage their unique business challenges.
Some Challenges Facing Australian Agribusiness
First we need to quickly recap some of the unique challenges that an Australian agribusiness might face that require special consideration when looking at better using analytics. 
1. If you talk to any farmer, the two most important topics of conversation are the weather and commodity prices. Market volatility and climate volatility have significant impacts on our primary producers and those in the agribusiness industry, and tools need to be put in place to mitigate some of these risks.  Recent drought conditions across Australia's east has brought this into even sharper focus with 100% of NSW, and two-thirds of Queensland, officially being 'drought declared'.  Managing a business in this environment means a tight grip on profitability, cash flow, asset maximisation and demand forecasting.
2. That being said, Australia has strong productivity levels in areas such as cropping and red meat however, its overall agricultural productivity growth rate sits at 1.4 percent, below the global average of 1.7 percent, according to a report by StartupAus, KPMG, Commonwealth Bank, and the Queensland government.  Added to that, complexity around regulations, subsidies and rising production costs -- including prices of seeds, fertilisers, water, electricity, and machinery -- are placing increasing pressures on Australian agribusinesses to more efficiently utilise their resources and increase output.
3. An upside however, is that Australia is perfectly placed as a quality producer and exporter of goods into emerging nations like China and Asia, today our farms are producing enough food to feed 80 million people, more than our population, according to a report by Minter Ellison.  This with our complementary Southern Hemisphere location Australian agribusinesses can export to the northern hemisphere in their off-season when demand is high.  However to do this, Australian agribusinesses must develop ways to remain competitive on a global stage and create efficient and data-driven supply chains for its food and agricultural exports.  
4. Perishability and maintaining freshness in produce becomes even more paramount with this in mind. Perishability needs to be a data element that is integrated into systems so that freshness can be optimised across the entire business. Perishable items require special treatment to cost-effectively maximise shelf life, but often supply chain systems treat all items the same. 
5. Another consideration or challenge facing Australian agribusinesses is the fact that consumers are getting pickier.  Information empowered consumers have increased expectations for health, provenance, sustainability and ethical transparency from firms. 
6. Finally, internet and network connectivity of regional Australia can still remain a barrier to growth in some regions with slow speeds.  While manual data collection processes make it difficult for farmers to achieve optimum levels of efficiency, especially given the geographic dispersal of their farms. There are more than 123,000 agribusinesses in Australia occupying 50 percent of the nation's land, according to the StartupAus/KMPG report.  The Internet-of-Things (IoT) is enabling digital transformation of the agriculture industry but infrastructure constraints, limited talent, data literacy and the need for regulation around the capture and exchange of data, present some challenges.
Where Analytics Can Deliver Fresh Insights
Technology, in particular business analytics software, is playing an increasingly important role in helping to mitigate some of these challenges. The sophistication of today's sensors, internet-enabled devices, software applications, and cloud data storage facilities are allowing vast amounts and types of data to be captured, stored, manipulated, and fed into decision-support tools to guide business decisions.
Inside Info works with many agribusiness wholesalers and producers to assist in providing visibility to managing pricing, reducing wastage, get stock onto shelves, maximise production, optimise assets and drive profitability accounting for market and climate volatility.  Applications range mainly in the following areas with a view to:
Provide Better Visibility Into Financial Information: Often we find a need for operators to improve visibility of information to property managers, regional managers & GM's of operations as well as head office.  This usually covers a wide range of financial and operational metrics like efficient land use and spend against budget for the year by business lines at a property and crop/stock level. Keeping an eye on cash flow is important.  Often there can be significant costs incurred and investment decisions made prior to a harvest if you're a grain producer and therefore prior to revenue being generated. This investment decision can be the difference between a profitable and un-profitable harvest. Accounting for this in management reporting is unique and critical.

Minimise Wastage: Review sales against budget and monitor sales order returns to minimise wastage, understanding sales patterns and merchandise/product types. New advanced analytics and automation should be customised for perishable goods. Management metrics need to reflect the fact that fresh products call for different monitoring practices than general merchandise.  Using real time or on-demand analytics like Qlik's business intelligence software that deliver prioritised and actionable information quickly.

Better Cost Management: Identify the cost of purchase and average price per item for visibility into the procurement process.  Producers analyse key metrics on a per hectare/property level or stock/produce level to understand cost variations that are impacting profitability, especially when times are tough.

Maximising Production Output: Better understand production outputs, manage supplier relationships, packaging and sales issues as part of a Total Quality Management Process. While farmers collect and use numerous types of data, as presented in the Australian Farm Institute's (AFI) 2016 report.  This includes data from soil sensors, crop and livestock monitoring systems, combined with local and hyperlocal climate data, enabling farmers to make better decisions to increase yields. Meat producers can link slaughter data to electronic identification data on breed and weight to provide farmers with feedback on how the animals perform.  While on some other farms, combining data sensors and monitoring systems are connected to automated watering and fertilisation systems to maintain an ideal soil environment, facilitate healthy plant growth, and maximise crop turnover. This information provides real-time predictive insights into the actions farmers need to take in order to maximise production.

Predict & Forecast Demand Better: Better forecast demand, accounting as much as possible for the unpredictable weather and commodity price fluctuations. Consolidating disparate data from weather reports or third party data like Productionwise (that includes rainfall, plant stress, soil moisture etc by property) and local event schedules to social media feeds and historical trend information, provides more accurate forecasts than ever before. This will help food producers, distributors and retailers optimise activities at multiple points along their supply chains including sourcing, capacity planning and even staffing.  Forecasting should look at the history of disposals and adjust accordingly, while replenishment systems should consider fresh life remaining when recommending how much product to send to clients or stores.
In addition to the above, AgTech, Internet-of-Things (IoT), blockchain and digitisation of the supply chain provides the capacity to deliver real time information and improve procurement, transport, manufacturing and quality  - while providing the basis for improved transparency and assurance of the food chain.  Tasmanian salmon producer Tassal is a good example here using IoT technology and Artificial Intelligence (AI) to improve efficiency and reduce operational costs in the business.  Fitting their salmon holding pens with smart cameras above and below the water to get accurate information on the water's oxygen levels, temperature and current, this then suggests the optimum feed time for the salmon and releases food accordingly.  With feed being the single biggest cost of their business, a reduction of one kilo of food every day saves the business AU$25,000 per year, according to an article in Zdnet.
Don't Forget The BI Basics
When providing information and data analytics applications out to property managers and other operational teams in an Agribusiness, or any business for that matter, it's important to make the information easy to understand, using a business intelligence platform that is also easy to use. Often this is where things can fall apart. Allow drill-down to supporting transactions that can identify source documents like a purchase order and express key financials in operational terms that make sense such as spend per DSE utilised or $ per tonnes produced etc.  While the use of powerful mapping capabilities can enhance understanding of the data.
Australian Agribusinesses are commonly cited as a sector that has much to gain by harnessing new technologies and better leveraging data analytics. Producers and farmers have the ability to automatically collect objective information about the status of their soil, water, crops, and animals. But the potential of IoT to transform agricultural efficiency, improve financial performance, and boost yield is best achieved when it's combined with powerful data analytics.
If you'd like to know more reach out to the Inside Info consulting team about how we can help.