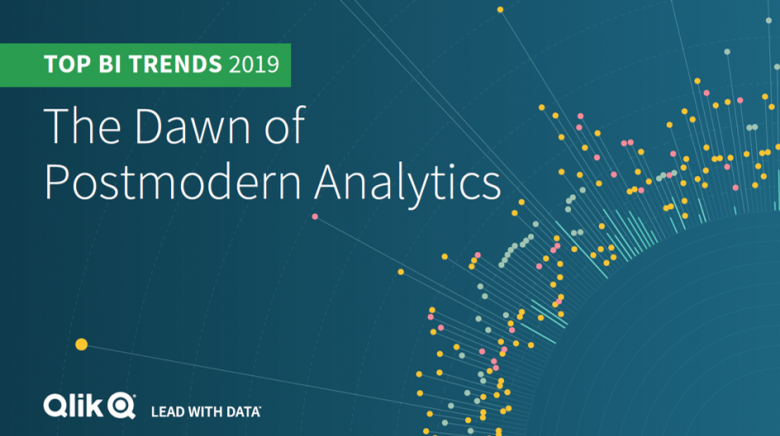 With the rising complexity of the business intelligence environment, the identification of trends and market developments is a key factor in effective decision making.  It's also increasingly important to use the latest technologies and approaches in order to cope with digitalisation and market competition. 
According to BARC's 2019 BI Trend Monitor which surveys over 2,679 BI users, consultants and vendors globally, the three most important trends remained the same as last year with master data and data quality management in first position, data discovery in second and self-service BI in third, while data governance and establishing a data-driven culture were ranked next, mainly fueled by the need to address rules around data introduced in 2018 with the General Data Protection Regulation (GDPR). 
While master data and data quality management builds a strong foundation for handling data, the significance attached to data discovery and self-service BI shows that the empowerment of business users is a consistently strong trend.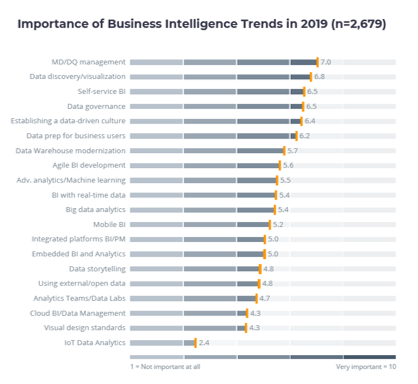 The lack of interest in IoT analytics, which features in last place in BARC's BI Trend Monitor, leads to the assumption that businesses are neither prepared nor really focused on implementing this special kind of analytics at the moment.
Trends that have clearly increased in importance compared to last year include agile BI development and advanced analytics and analytics teams. While agile BI development is connected to a revolutionised cooperative approach between lines of business and IT, advanced analytics expresses the need for businesses to use data in a more beneficial way. Also, advanced analytics includes machine learning, which is tightly interconnected to many hyped use cases in the sphere of artificial intelligence.
Qlik's Top 10 BI Trends For 2019
Business analytics leaders Qlik have compiled their own 10 virtues of a post modern analytics platform kicking us off in 2019, ranking their top BI Trends for the year, which are highlighted below:
1. Multi-cloud, hybrid and edge will form a continuum
In 2019 platforms will emerge that can handle multi-cloud, hybrid and edge as a continuum rather than as separate efforts. Around 10% of enterprise-generated data is created and processed outside a traditional centralised data centre or cloud. By 2022, Gartner predicts this will reach 75%.
2. Workloads - not just data - will be distributed 
In 2019 the majority of enterprise architects at leading organisations will view microservices and container-orchestration as critical architectural components of BI and analytics platforms. IDC actually predict that by 2022, 90% of all new apps will feature microservices architectures that improve the ability to design, debug, update and leverage third party code. 
3. Centralised data will be replaced by a single view of all data 
In 2019, focus will shift from bringing all data together into one place to getting a single view of all data. Gartner predict that by 2020, most D&A use cases will require connecting to distributed data sources, with leading enterprises to double their investments in metadata management. 
4. Analytics embedded in the process will reshape the process 
In 2019, analytics will be more pervasive in the process.  Users want analytics in their existing workflows to make insights more actionable and in real-time. This forms the basis of "continuous analytics" in which real-time analytics will be integrated within a business operation or IoT, processing data to prescribe actions in response to business moments. 
5. External innovation will outpace internal innovation by 2X
In 2019, the market will look to open APIs and extensions as a necessity, as innovation from open platforms with ecosystems will outpace those with only internal innovation by a factor of 2X. 
6. Performance and scale will re-take centre stage 
Performance of a BI platform can often be overlooked, but many self-service BI solutions crumble when it comes to time to scale to more data, bigger workloads and more users. As companies increase their adoption of hyperscale data centres and move into the IoT world, performance will rise in the selection criteria. 
7. AI will make analytics more human, not less 
In 2019 and beyond AI designed around people will have a higher impact than AI that takes people out of the process. According to Gartner, by 2020, augmented analytics will be a dominant driver of new purchases of BI. 
8. Visualisation, conversation and presentation technologies will merge 
In 2019, we'll see a convergence among visual, conversational and presentation technologies, facilitating persuasive storytelling.  According to Gartner, by 2021, conversational analytics and natural language processing (NLP) will boost analytics and BI adoption from 32% of employees to over 50% of an organisation's employees, to include new classes of users particularly in front offices. 
9. Data literacy will become a KPI
Enterprises will move to further create a culture of data literacy to drive operational improvement and decisions by making data literacy a KPI across the business that can be measured. 
10. Platforms will evolve into systems
Rather than having individuals use tools, groups of people and bots/intelligent agents will participate in systems. 
In a world where information is power each of us has a responsibility to stay informed and active, continuing to reach higher levels of performance and decision making through better use of enterprise data.  When we do that we build organisations that are increasingly competitive, self-organising and robust, thanks to a dynamic collective intelligence. If you'd like to read more about Qlik's Top BI Trends For 2019 download the ebook below.