For companies seeking business intelligence solutions that will transform the way they oversee their operations, there's no shortage of options. BI tools are designed to deliver timely insights through smart analytics that improves decision making across the organisation, and therefore business performance.
Qlik, however, is unique among BI solutions in revealing the whole story that lives within your data. It's no longer just about poring over numbers and compiling reports - the average solution can do that, but modern BI demands more insights at a greater velocity. Here's some thoughts on why and how Qlik can take your business to the next level.
Making intelligent decisions quickly
Perhaps the most significant factor that differentiates Qlik software is its ability to help companies make big decisions quickly and confidently. There's no doubt that any BI solution can help with making decisions, but at what speed? Our research has found that 42% of professionals need to make their data-driven decisions within one day, yet it takes six weeks on average to build a report using traditional BI.
Closing this gap is essential. In an increasingly digital world, working with data quickly and efficiently is crucial for companies to gain a competitive advantage.
Qlik serves as a way to eliminate this issue. The solution helps bring people together to make collaborative decisions faster. It's built upon the idea that people make decisions, not applications.
Powerful new technology at the core
So what makes it possible for a BI solution to foster better decisions and collaboration when it comes to analytics? With Qlik, the answer is centred around its QIX engine – a patented, in-memory, associative data indexing engine.
The QIX engine is built for speed-of-thought response, which means it reads data quickly and instantly finding associations that will inform future decision-making. It makes inferences and uses them on the fly to recalculate all the analytics in your app and put them in current context.
With each click, it instantly determines the associations in your data, highlights your selections in green, associated values in white, and unrelated values in grey. This gives you a complete view of all your data, tearing down any arbitrary boundaries and ensuring that no relevant information is left behind. What's more, this all happens at the speed of thought with no interruptions. There's no need to predefine data hierarchies, you're able to freely analyse even the largest data sets.
Adapting with the evolution of your business
No business should be content simply to stay in one place, never evolving or growing. If your organisation is always looking to make improvements, you'll need to have an adaptable BI platform that grows with your business, making improvements to fit your company's ever-changing needs.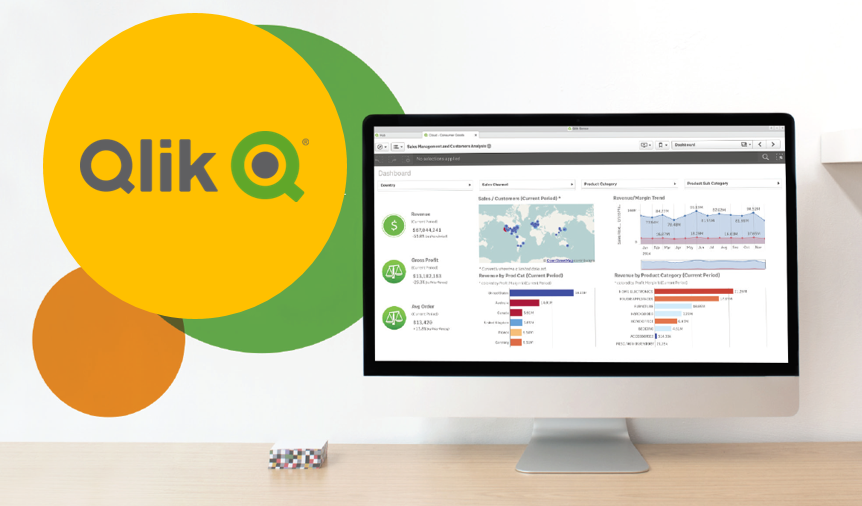 Qlik, like no other BI software, connects all your people, data and ideas.
Qlik is a modern, enterprise grade business intelligence platform. A platform that enables your organisation to fully leverage the power of analytics. This includes:
An enterprise BI solution - custom and pre-built apps, guided analytics, and self-service discovery and visualisations, embedded analytics, collaboration and reporting with Qlik Sense and QlikView that connects to any and multiple data source and is available any way you wish to deploy them.
An innovative association engine to freely probe all the possible associations in your data across all data sources to answer "What happened?", "Why?" and "What's likely to happen?"
A strong data governance and security layer that unifies data creating a single source of consistent, reliable truth to act upon. Qlik's data governance capabilities provide shared, reusable libraries of dimensions, measures and visualizations, governed streams of content, rule-based security and access profiles down to the row and column level. Centralised management allows IT to manage the platform and safely scale Qlik to thousands of users across your business.
The best companies are built on a premise of agility and trust. Your processes must always be evolving, and you also need to trust that your BI strategies are adapting to meet your changing needs. With Qlik, both of those elements fall seamlessly into place. Download this ebook on What Makes Qlik Unique for more info.