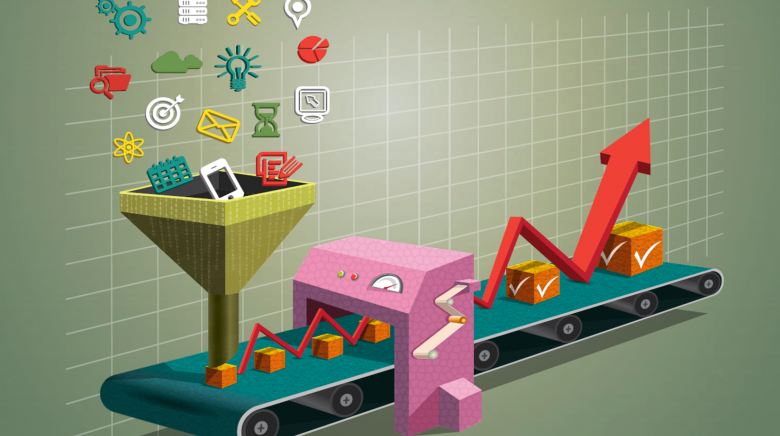 Australia's manufacturing industry has experienced great turbulence in recent years, facing intense competition from lower-cost offshore organisations, the closure of major facilities including Holden and Ford and a generally pessimistic edge to media coverage. It's a sector that has come under increased pressure since the global financial crisis - output has decreased by 13 per cent since 2008 according to The Australia Institute, with employment falling by a similar proportion.
Despite the seemingly gloomy outlook, however, manufacturing is still an incredibly significant part of our economy. Providing close to one million jobs and $100 billion per year in export revenues, it's a thriving industry brimming with innovation and enterprises facing up to immense challenges. 
Gaining an edge in manufacturing means adopting new processes and practices to keep pace with the competition. Business intelligence (BI) solutions are ideal for organisations seeking to improve agility and efficiency, utilising the insight of enterprise data to drive better decision-making, productivity and profitability.
The state of BI in manufacturing
Many industries have been quick to recognise the benefits of BI and data analytics, however, manufacturing enterprises appear to have been somewhat hesitant to dive in to the solutions.
Research by McKinsey in 2016 estimates that analytics tools have increased gross margins for manufacturers by up to 40%, with as much as 15% of after-sales costs also being reduced.
That said, McKinsey also found that the sector has thus far captured less than 30 per cent of the potential value highlighted by the firm five years earlier, and new developments have only made the playing field between early adopters and laggards less even.
Forbes' 2017 State of Cloud Business Intelligence report, meanwhile, reveals that almost 40 per cent of manufacturers surveyed still view BI applications as "not important", higher than any other industry examined. Given the benefits inherent in the solutions, it's concerning that so many enterprises are yet to grasp the potential for improving their operations.
Streamlining the supply chain with BI
In addition to all of the external challenges faced by manufacturers, internally there is an enormous amount of data that must be gathered, categorised and understood before valuable insight can be gleaned. Throughout the supply chain, analytics can be used to optimise production processes, ensuring manufacturers are capable of delivering on demand with minimal wastage. 
Manufacturing enterprises need to run as lean as possible to remain competitive, and many legacy processes and solutions may no longer be adequate. BI solutions provide organisations with impressive oversight of production efficiency, customer demand and product quality, allowing them to make amendments to operations with much greater agility. Predictive analytics simplifies the tactical decision-making process with three key areas of improvement:
Effectively balancing business objectives 
The supply chain is a multi-faceted element of the manufacturing sector, and while it's difficult - if not impossible - to get every part of the process in perfect alignment, BI tools can certainly make a positive difference. Analytics solutions can provide useful information on various business objectives, identifying when they are in conflict or running in harmony.
Gathering and contextualising data
Big data is defined by three key features - volume, velocity and variety. Making sense of vast amounts of information is never easy, but BI tools not only gather enterprise data into more useable repositories, they also contextualise it. Strategic analysis requires consistent, organised information, setting a strong foundation to move forward on data-driven initiatives like IoT.
Opening external data channels
External factors can place pressure on manufacturers, so having a solution that is capable of looking outside the walls of the enterprise is beneficial. Insight gleaned from social media, e-commerce and other sources may factor into the manufacturing supply chain, helping organisations gain greater understanding of customer demand and the performance of their products. 

Tapping into manufacturing enterprise data with Qlik
For Australia's manufacturing industry to grow in the future, technical innovation is essential. Analytics tools are a key part of that innovation, with the CSIRO noting that the solutions should be "applied across the value chain, including predictive maintenance, logistical tracking for operational efficiencies, quality control and service offering (when integrated into end product)."
Recognised for the seventh consecutive year as a leader in the 2017 Gartner Business Intelligence and Analytics Magic Quadrant Report, Qlik is an excellent choice for Australian manufacturers looking to improve their capability, efficiency and profitability. With the tremendous challenges these businesses face - pressure to innovate products and services, operate under tighter budgets and generate greater understanding of customers - enterprises can derive significant benefits from Qlik's visual analytics.
For more information on how Qlik can help your organisation drive operational efficiency and productivity, take a look at our video below. For more advice on the benefits of BI for manufacturers, get in touch with the team at Inside Info today.